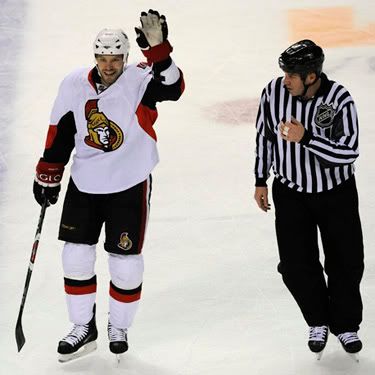 (source: communities.canada.com)
Super pest Jarkko Ruutu has been traded to the Anaheim Ducks for their 2011 6th round draft pick. GM Byran Murray continues to clean house as this was the third trade in a week as Ottawa embarks on their rebuilding path. Was a 6th round draft pick enough for Ruutu?
Here's my take on the trade:
In trading Ruutu for a draft pick, Ottawa ensures they will get a future asset for him rather than let him walk away for nothing in free agency. Being a UFA at the end of the season, Ruutu was not part of the plan going forward and was seen as a movable player when Ottawa announced their plans for a rebuild. An instant fan favourite in Ottawa, Ruutu was always good for shenanigans that entertained the home crowd and drove opponents crazy — just ask Andrew Peters and Adam Mair.
This trade is all gain for Ottawa. Ruutu has been a healthy scratch lately and is not the same player he was last season. Even though a 6th round draft pick is nothing to throw a party for, it is better than nothing. This draft pick may amount to nothing in the future, but sometimes diamonds are found late in a draft (see Alfredsson, Datsyuk and Zetterberg to name a few). And with the track record the Murray's have in drafting, gaining another pick in the upcoming draft gives them ten picks total to stock the prospect cupboard.
What Anaheim gains in picking up Ruutu is a player that will help them in their playoff hopes and not hinder them financially in the future. Being a UFA at season's ends, Ruutu is a cheap rental which is offset by the trade they made yesterday with the Montreal Canadiens where they gained a 5th round draft pick. Being a great penalty killer, Ruutu will help the Ducks improve their 17th ranked penalty kill and will add some grit to their line-up. This trade also brings together two of the league's biggest pests in Ruutu and Maxim Lapierre on one roster. In a seven game playoff series, these two will go along way in helping the Ducks win.
In the end, I think both teams win the trade. Ottawa gets another draft pick to help in their rebuild, and Anaheim gets a cheap rental that will come in and play his role.
Check out Jared's take on the Ruutu trade.