Lehigh Valley Phantoms Roll Over Binghamton Senators 5-1
Lehigh Valley Phantoms' Nick Cousins records a hat trick as they roll over the Binghamton Senators 5-1 down in Allentown, PA. Scoring just 14 seconds into the game was a simple reminder to the Senators that they will make the PPL Center a tough place to play in as what was an eerie start similar to the last time the Senators played getting scored upon three times in the first 36 seconds back in Dec.
GAME RECAP
Lehigh Valley scores just 14 seconds in off the stick of Cousins high in the slot as his wrister is mishandled by Andrew Hammond giving the Phantoms the early lead. Ryan Dzingel dazzles skating towards the net as his shot is stopped by Martin Ouellette but the puck pops loose as the Senators can't cash in. Senators get whistled for too many men and Phantoms strike again with Zack Stortini's re-direct in front off a slapper by Brandon Manning from the blue line making it 2-0.
Guillaume Lepine and Derek Mathers drop the gloves and want to dance but it's broken up by the linesmen. They would try again after their delay of game calls expire with Lepine throwing hard and knocking Mathers to the ice with Lepine landing on top of him. Senators get one late with 53 seconds left with some nice passing from Dzingel to Patrick Mullen to Alex Guptill as he buries it high into the net past Ouellette for a 2-1 contest.
33 seconds into the second Cousins scores his second of the game from the circle shooting upstairs past a ducking Hammond for a 3-1 lead. Matt Puempel's slap shot is stopped by Ouellette but Derek Grant gets a try on the rebound but his shot is saved by a diving glove of Ouellette. At 7:13 Phantoms make it 4-1 as Ryan White shoots a turnaround floater on net from the point as the puck gets tipped by Jay Rosehill in front and past Hammond. With seconds winding down Hammond's clearing attempt gets picked off by Andrew Gordon and he manages a shot on goal with Hammond making a desperate save before the horn blows.
Guptill races on a breakaway but is stalled with Steven Delisle sliding taken Alex out but is rewarded with a penalty shot, but Ouellette gets a glove in making the save. Ouellette later with a blocker save on Shane Prince as he has been solid in net. All heck breaks loose with Fredrik Claesson checking Brandon Alderson in neutral ice but Alderson goes after Claesson knocking his stick to the ice. Max McCormick steps in after Alderson as two fights simultaneously break out with the other between Garrett Thompson and Oliver Lauridsen.
Cousins completes the hat trick with a wrister over Hammond's glove on a two on one rush completing the scoring with the Phantoms now ahead 5-1. But not before a few more frustration fights take place as Guptill handles Kevin Goumas and Danny New gets the decision over Brett Hextall. Shots end up in favor of the Phantoms 37-29.
NOTES & OBSERVATIONS
Senators Lepine makes quick work in his two fights in two games he's had and not giving any time for his opponents to throw any punches. Big guy and uses his long reach. Little rough around the edges on defense but adequate.
Hammond not at fault with two goals getting re-directed in, but still didn't look his best on the other three. His history of starting in back to back games aren't the best as one would've thought Peter Mannino would've gotten the nod.
Derek Grant, Prince and Dzingel looked good with Grant getting the most scoring opportunities.
Todd Bertuzzi sat out the third period with the game already seemingly out of reach in resting him for Sunday's match. PTO signee Shawn Szydlowski took his spot.
Binghamton doesn't do very well in the state of Pennsylvania as now Allentown looks to be added to the list of Hershey and Wilkes-Barre/Scranton of the two others the team has experienced tough times playing in over their history.
PLAYER SPOTLIGHT CARD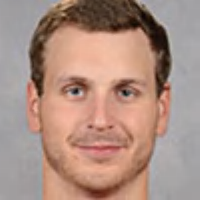 #27 ALEX GUPTILL
Forward,
Binghamton Senators
B-
While the rookie is having a rough go at it so far this season he's putting the effort into it as he scored the team's lone goal on a nice set up by Patrick Mullen. He also had a pair of shots and a +1 while getting the best of his opponent in a fight in the third period. Alex also had a penalty shot in the third but was robbed with his hard wrister gloved down by Ouellette.
B-SENS LINES
Forwards – Prince-Camper-Bertuzzi, Puempel-D Grant-Szydlowski, Guptill-Dzingel-Robinson, McCormick-Marshall-Thompson
Defense – Johnson-Mullen, Claesson-Lepine, New-Wideman
Out – Brad Mills, Cole Schneider, David Dziurzynski, Mike Sdao and Alex Grant all injured. Darren Kramer served a one game suspension (three game misconducts).
UP NEXT
Binghamton has a 4:00 pm game on Sunday in Springfield, MA as they take off tonight for the four-hour bus ride.