Syracuse Crunch Doubles Up On Binghamton Senators 6-3
This team has a lot of work to do.
So much for the hype of winning two in a row for the Binghamton Senators as the Syracuse Crunch end their own three game slide by scoring six goals en-route to a 6-3 road victory after getting shutout the previous night by Rochester. Andrew Hammond, fresh off his call-up for Ottawa, was equally brilliant as well as sluggish in making 28 saves. He has to improve his overall effort if this club is going to win this season making up for any defensive miscues that might is going to happen.
GAME RECAP
Just 21 seconds in Syracuse's Mike Blunden takes a center ice hit by Darren Kramer and is not too pleased with it and grabs Derek Grant soon after in the corner as the two tussle around with both players ending on the ice getting the first period off the ground. Patrick Mullen takes a puck to the face from a shot from the point that draws blood as he is off to the locker room to get sewn up. He would eventually return in the second period wearing a cage.
Senators get whistled for five penalties compared to the Crunch with three calls as special teams play a strong role in the opening period as both teams end up not scoring. Binghamton with some good, crisp passing with the man advantage as Hammond and Kristers Gudlevskis played well with Senators ahead in shots by a 11-9 margin.
In the second, Syracuse gets on the board first with Jonathan Marchessault receiving a cross ice pass from Jake Dotchin to tap it in past a sliding Hammond making it 1-0. About a minute later, Kramer and Syracuse's Luke Witkowski exchange punches in a lengthy battle with both running out of gas in the end. Scoring their second goal for Syracuse is Slater Koekkoek's blue line slapper beating Hammond up high for a power play goal with Chris Wideman in the box for tripping.
A 1:18 later, Jean-Gabriel Pageau answers with his third of the season cutting the margin in half with his shot from the slot slides through Gudlevskis. Wideman and Buddy Robinson with the assists. At 7:34 in the second, Ryan Dzingel's slick backhander from behind the net, finds Matt Puempel as he roofs a backhander while falling to the ice to tie up the game at two apiece. Senators pressing highlighted by Alex Guptill taking a Robinson pass and shooting for the corner before Gudlevskis flashes the leather for a glove save, as frustration sets in for the rookie afterwards looking up towards the hockey God's.
All 'Cuse in the third period breaking it open scoring four goals with the first coming from Cody Kunyk in the slot picking up a loose puck from a scramble in front and past Hammond for a 3-2 lead. Then Mike Sdao has a bad turnover in his zone as he coughed up the puck along the boards for Joel Vermin to scoop it in and scores unassisted with a high wrister, as Sdao breaks his stick against the post right after. Senators cut the lead back to one with Wideman's one-timer play set up by Mullen and in by Gudlevskis for a power play goal making it 4-3 and the rally is on.
Then Hammond lets in two really bad goals that takes the fun out of it. His first softy was by Dalton Smith as his innocent shot on net beats him glove high with Wideman the lone defender back. The second being from Cedric Paquette's high wrist shot again past Hammond as he has all but cashed it in for the night. Syracuse wins 6-3 ending their three game losing streak.
NOTES & OBSERVATIONS
I think that fifth Crunch goal might have caught Wideman's stick for the slightest re-direction past Hammond after reviewing the replays about a dozen times, as that might have deflated him and setting to really fail on that sixth goal.
Wideman has a nine game scoring streak and is currently tied for second in the league in points with 13, one behind Hershey's Kris Newbury.
Perhaps Blunden got the wrong number on him being on the receiving end of Kramer's hit, or took his frustrations on the next available Senator as Derek is not known to be a fighter.
Senators go 1/3 on the power play resulting in a 4/9 covering the last two games as that shows steady improvement.
Puempel's goal was a thing of beauty as he placed a backhand shot up high by Gudlevskis while getting checked to the ice near the slot followed by a great celebration.
Shots were 34-28 Syracuse as Binghamton is out-shot for the ninth consecutive game.
PLAYER'S SPOTLIGHT CARD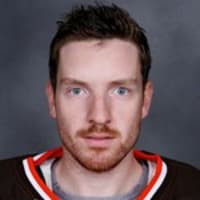 ANDREW HAMMOND
Goaltender,
Binghamton Senators
C-
Hammond had a strong first period and a couple of highlight saves in the second on Dalton Smith and Tanner Richard as the goal light temporarily came on in the latter. Then to fall apart in the third is unacceptable. Mike Sdao couldn't handle the puck causing a huge turnover, but Andrew has to be clutch and bail him out. That fifth goal may or may not have got deflected in and the sixth was a one he should've saved. His inconsistent play is going to be the downfall for this team, only if he doesn't begin to start to show signs of improvement.
B-SENS LINES
Forwards – Guptill-Pageau-Robinson, Puempel-Dzingel-Schneider, Thompson-D Grant-Camper, Kramer-Culek-Hobbs.
Defense – Claesson-Grant, Johnson-Mullen, Sdao-Wideman..Hammond in goal.
Out – Brad Mills, Gm. #7 of 20 gm. AHL Suspension. Max McCormick, upper body. Daniel New, upper body. Shane Prince upper body. David Dziurzynski, day-to-day.
UP NEXT
Binghamton travels back to Utica for game three of the season on Wednesday.
*Cover Photo & Insert Courtesy of Alicia Strauch