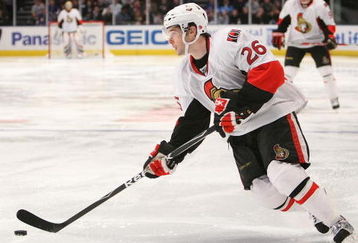 Ryan Shannon is a very fast, versatile, and useful player. In my opinion though, he isn't having the best of seasons on the campaign. Only 5 goals after blowing winds when the top line was out. He's been on a line with Alex Kovalev and Peter Regin for some time, so it looks like Cory Clouston thinks those three have developed chemistry. The Sens re-signed Shannon yesterday to a one-year, $675,000 contract. A bit surprising, garnering he has been subject in some trade talks. Murray has previously been against the idea of sign-and-trade, so don't expect him to be moved.
With RS now off the market, who could be heading the other way if in fact rumors stay true and Bryan Murray does acquire a defenseman? Chris Kelly, not a chance. Too valuable for this team in many ways. Jarkko Ruutu, same story, you can't let this guy go. Jesse Winchester, maybe, and even though I don't see a specific role for him on this team that can't be filled by Zack Smith over in Binghamton. But is he garnering interest? I don't think so, but things can happen over the next few days.
I'm still confident Bryan Murray will get a guy on TD Day. It's still a mystery of who it will be, but my money is on German Olympian and Florida Panthers Dennis Seidenberg. The next days could be interesting as the Vancouver Olympics come to a close and GM's starting fielding phone calls once again.
GO USA!!!
Tags: Bryan Murray Jesse Winchester Paul MacLean Stephane Da Costa