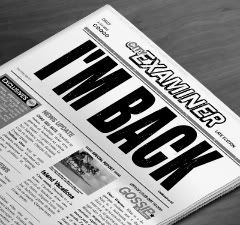 Hey, guys, how's it been going around the land of the Great White North? Your favorite Senators blogger is back after a lengthy break for his hobby due to a crashed motherboard, personal time, and all that stuff. But now I'm back and even better, with a guaranteed one stop for all your info Sens and hockey all across the globe. I will put this behind me and continue to rock on!
A lot has happened during my leave of absence. A continuing surge of the Ottawa Senators, Jason Spezza going all Maurice Richard on us, Jonathan Cheechoo finally being demoted to the minors (seriously, he had to go some day or another), the Cullen/Picard trade, and the start of the Vancouver Winter Olympics. I have to start with the latter, and after watching Canada eek out a victory over the Swiss, I personally now think this team will definitely win gold. Why? They've endured misery in the Olympics, and now the secondary guys like Rick Nash, Eric Staal, and Ryan Getzlaf will step up and be the difference. A win over the USA would give them immense confidence going into the quarters and much-needed mini-break, especially for the D. The question still remains though, who is going to be No.1, Luongo or Brodeur? Right now, Martin Brodeur gets the advantage just because he's a better pedigree type of goalie and you saw tonight in the shootout how big he can step up.
Entendu les Senateurs. Ottawa has been amazing the last month or so. With only two losses in that time frame, they've been shelling 'em out. The first loss to Toronto, and I need to exclaim this was not a loss in skill or grit or power, but a loss in emotion. The day before, Brian Burke lost his son, Brendan, and you could see the passion in the Leaf players that game. My late condolences go to the Burke family, and how his team stepped up that game. We'll bite them in the ass next time though. The second loss to Detroit was more of a defensive breakdown, and you can clearly see Derek Smith had a rough time, and also Brian Lee, who I think will be let go this off-season. Kudos to Detroit though, as I think they'll come out of the Olympic break and emerge as big-time threat in the West.
Now that I'm getting more used to this, I'll be writing even more often than before. Tomorrow will be a late recap of the trade and some interesting rumors to throw out there. Right now, I'm just hoping for some kind of upset from Slovakia over Russia.