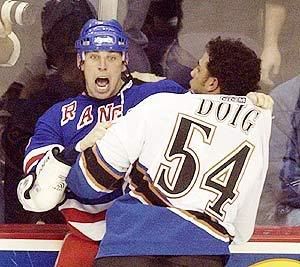 The Ottawa Senators are riding an eight-game winning streak after last night's 4-1 victory (I called it!) over the defending Stanley Cup Champions, the Pittsburgh Penguins. Usually the local media sharpens on the Sens like a bee on honey, but guys like Don Brennan and Bruce Garrioch have been quiet lately, only signalling out the positives from our team. Turns your heads though, ladies, as we're not just done yet. The national media are now the jackasses, and I've made it my mission to signal out their flaunty mistakes. Remember, TSN predicted Ottawa would finish 11th in the Eastern Conference this season, behind the supposed 10th place Tampa Bay Lightning, the 9th place Toronto Maple Leafs (WTFFFFFFF) and the 8th place Montreal Canadiens. so don't take these guys' opinions to hard to the heart.
So, let's start at TSN. Everyone knows I compulsively hate Ray Ferraro. Not only was he a horrible hockey player, but he's a horrible commentator. Well last night's TSN broadcasting of the Sens vs. Pens, the pnale including Ferraro were discussing Ottawa's success. Ferraro undoubtedly came out with this…
Ferraro: Ottawa has been very surprising and their defense has been playing good, but I think their offense have not played well during this winning streak and that may keep them out of the playoffs.
Let's now go to the americano version of TSN, ESPN. Here's what they had to say about the Sens. Just a quote from so-called expert Matthew Barnaby…
Barnaby: I still think Ottawa will show it's true colors when it matters down the strech and miss the playoffs…their defense is still unreliable… and their goaltending is streaky at best.
Melrose: Oh Canada! I think the Sens will make it. Montreal's in a rut, the Rags and Bruins can't score, Atlanta is up and down, Tampa is up and down, Florida is up and down, who else is left to contend that 5th spot with Ottawa?
Ok, take a deep breath Sens fans. On the first quote, Ray Ferraro point out our offense is our downpoint? Dude, everyone in the world is mentioning how we actually are finally and four line scoring team and you're giving everybody bullshit that we're just that pathetic one-line team like we were before? Matthew Barnaby, how will we miss the playoffs when all the teams that Barry Melrose mentioned completely suck at this moment and are lucky to be in the Eastern Conference. And how is our defense unreliable when we have beaten top teams in both the East and West with this same defense. And this is the fun part, both say Ottawa sucks, but give two completely different reason why. It's like they're making up stuff to just hide their bias against Ottawa. What annoys me even more is that in TSN's case, if Toronto went on an 8-game winning streak, they would be jumping on their feet and exclaiming how amazing Toronto is, how invisible they are and how they will never miss the playoffs. But since it's Ottawa, we all have to go to the bad side.
The media has always pointed their ass towards our team. It's time management comes up and defends the team and call out guys like Ferraro and Barnaby, who didn't do shit in the NHL but now-a-days they can criticize a guy like Alex Kovalev, who can actually score once in a while.
Rant over. Case closed.
Tags: Local Media National Media Rants